Not on the Mahnomen app yet?
Don't forget to download Mahnomen Independent School District #432's app! It's everything Mahnomen, in your pocket and is part of the school's commitment to communication with you, in a way that fits in with your lifestyle! iPhone or Android users can download our app, for free, via the App Store or Google Play.

The benefits of using a school app include:
Instant access to an up-to-date school calendar. Any events that are relevant to you, can be added to you own calendar with one tap on the screen.
Keep up to date with what is happening at the school. Read bite-sized news items and scroll through the school image gallery. Find real-time updates from the website's live feed about stories happening inside the classroom, on the field, or in the studio.
Connect with teachers and administrators. Learn about parent teacher conferences, access staff contact information, and utilize one touch dialing / email.
Push notifications sent by the school, let you know the important stuff as well as helpful reminders such as snow days, event cancellations, and other emergency notifications.
Get started.
The first step is to get the Mahnomen School app on your phone. The easiest way, is to use your phone to search the App Store (Apple) or Google Play (Android) for "Mahnomen Public Schools" it's the one with the "M" app tile. Alternatively, you can click one of the buttons shown above or on the school homepage, which will take you to the correct page on the app stores. Once you have downloaded it, we encourage you to enable notifications to ensure you can get the most from the app!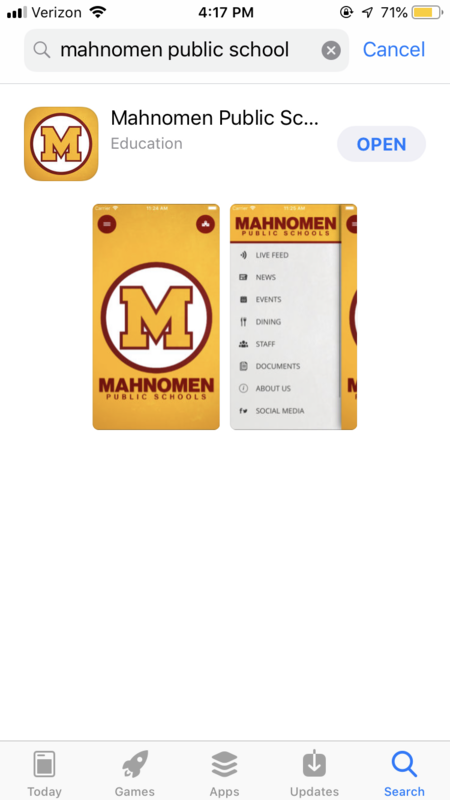 Push Notifications.
These enable the school to notify you of new messages or events without the need for you to actually open the app. It is recommended that you choose to accept push notifications from Mahnomen Public Schools, to ensure that you receive important communications, such as a school closures due to snow activities cancellations, etc. We have created notification groups; you will see these in settings. Simply opt in, to receive notifications from the groups which are of interest to you!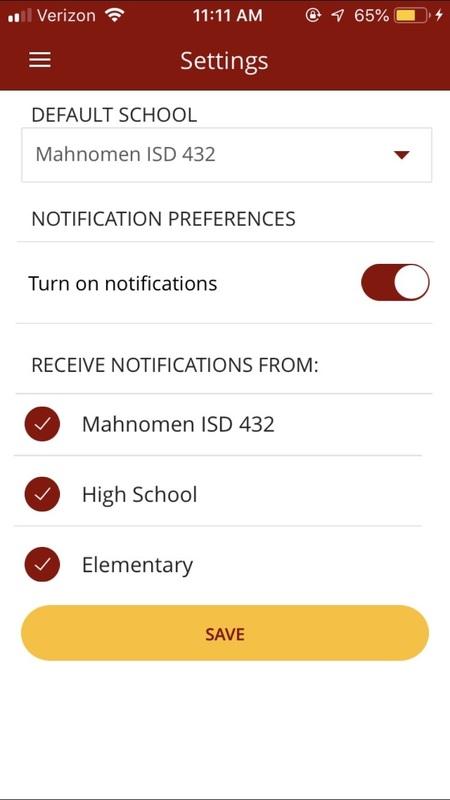 If you experience any problems with the app set up please contact our technology team at the school.